Oh my goodness! I am having so much fun reading the blog posts over at Unus Sed Leona! As part of a monthly project, I am supposed to pick one post from her blog and share with you, but I cannot find just one blog post! It is impossible to pick one post!
At Unus Sed Leona you will find: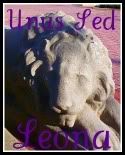 Everything she writes is so well written and enjoyable!
But, I guess if I have to choose a favorite, it would be her post on Eight Ways to Use a Watermelon. We love watermelon at our house and Papa usually grows it in his garden every year so I am super excited to try some of her tips, especially the watermelon smoothies and watermelon sorbet! I am definitely looking forward to summer now!
Make sure to head over to Unus Sed Leona to see what you might find! And don't forget to tell her that Life as Leels says hi!