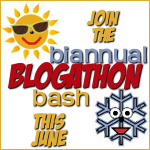 Today is the official start to the Biannual Blogathon Bash running from
today (June 22nd) through June 25th.
If you are wanting to sign up, it's not too late! You can still sign up here.
PS: I'm sponsoring a prize for the mini challenges and am hosting a mini challenge on No-Follow vs. Do Follow!
Goals:
I have 3 product reviews that need to be done prior to the 25th.
I have at least 2 other product reviews I need to write.
I have 2 products I need to review with my kiddos (learning programs).
I need to develop a consent form for a new project.
I need to develop interview questions for a new project.
I would love to schedule some content for the upcoming weeks.
My blogging time today is cut short because of work and then I have a work out session at 8pm, but I intend to be a blogging machine tomorrow and Sunday!