I know I can't be the only parent out there that has a million and one things to do during the week.
I find that our biggest struggle is finding a delicious dinner that doesn't require all night to cook so that we can still come home, eat as a family, and get the kids showered and bed at a decent time for school the next day.
With that in mind, I joined a group of bloggers to share 15 Minute Suppers with you.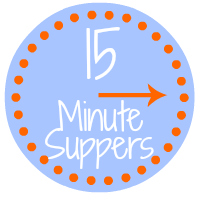 15 Minute Suppers is all about getting supper on the table quickly with a homemade meal.
All of the recipes shared are super easy and take only 15 minutes or less to get on the table.
Say bye bye to the 30 minute suppers and HELLO 15 Minute Suppers!
Follow 15 Minute Suppers on Facebook | Twitter | Instagram | Pinterest
and look for the #15MinuteSuppers hashtag too
You have to check out these 7 fabulous 15 Minute Suppers:
Easy Taco Burgers from Around My Family Table
Cajun Chicken Alfredo from Monzanita's
Sesame Chicken Salad from Better in Bulk
Homemade Beef & Bean Chili from How To This And That
Italian Couscous with Sausage from Suburbia Unwrapped
Paleo Shrimp Salad Recipe from Confessions of an Overworked Mom
Healthy Pesto "Spaghetti" from Mindfully Frugal Mom
If you are a blogger and you'd like more info, please check out the 15 Minute Suppers website or ask to join the Facebook group to participate on Fridays…we'd love to have you join us.
Do you have a favorite meal that takes 15 minutes or less? Leave it in the comments or email it to me to try out!