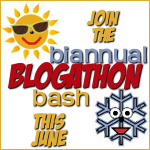 I am participating in the Biannual Blogathon Bash!
This is a mini-challenge for the Biannual Blogathon Bash and anyone is welcome to participate and benefit from this mini-challenge, but only participants in the Biannual Blogathon Bash are eligible to win prizes for it!
* * * * * * * * * *
What is no-follow?
Google defines no-follow as "telling search engines 'don't follow links on this page' or 'don't follow this specific link'." I like to think of a no-follow link as I am providing my readers with the website, but I want the bots to see it as just words and not an actual link.
A recommendation from Google (who we know rules the cyber world) is to no-follow paid links. (Paid links would constitute posts that are written in return for compensation in terms of money or product – anything that has monetary value.)
If the link is paid, they are paying to influence search results which angers the Google people (which we do not want to do as they are the rulers of cyber space).
In fact, per Google's paid post guidelines paid posts must be no-follow.
Google further recommends no-following untrusted content. (That could just end up ugly!)
You can see all of Google's no-follow guidelines here.
How to No-Follow
To create a no-follow link, you would use the following format:
<a href="url" rel="nofollow">title</a>
For example:
<a href="http://lifeasleels.com" target="_blank" rel="nofollow">Life as Leels</a> = Life as Leels <– this link is a no-follow link meaning the bots will not follow this link
Links that are good to do-follow would be fellow bloggers or any other site that has not paid you to link to their site (another good reason to make sure you have disclosures on your posts).
Note: If you are on a self hosted wordpress blog, there is a plug-in to make life easier! The plug-in is called NoFollow Link. (If you need assistance installing this plug-in, please let me know!)
With this plug-in, you can just add the link in html as normal and then when in visual mode, highlight the link and hit the stops sign icon in the post tool bar to automatically install the no-follow code!
Mini-Challenge
For this mini-challenge, and to be eligible for the prize, I would like you to go through your posts from this past 5 days and no-follow any paid links.
Remember to come back and leave a comment that you completed the mini-challenge to be eligible for the prize!