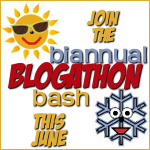 Today is the end of the Biannual Blogathon Bash (well, at least the summer 2012 version). I didn't get as much work done as I had hoped (or as much as I had during the first bash) but I did get some work completed that needed to be completed and I did get to do some of the mini-challenges that were put on.
I think I spent an accumulative of 19.5 hours of blogging between Friday and today.
If you remember my kick off post, I had some goals. Here is what I completed:
I have 3 product reviews that need to be done prior to the 25th. 

Done! I completed all of them today!

I have at least 2 other product reviews I need to write.
I have 2 products I need to review with my kiddos (learning programs).
I need to develop a consent form for a new project. It's not finalized, but I got the draft done so that's a plus!
I need to develop interview questions for a new project. Again, not finalized, but a draft is done!
I would love to schedule some content for the upcoming weeks.
Yep, I suck. LOL. Grant you, I still have another 4 hours that I'll be online tonight so I'm going to try and at least work on some of them, but I did manage to write two other posts outside of the reviews I completed.
I had a lot of fun and can't wait until the winter bash! I hope if you didn't join this time that you'll consider joining the next one!